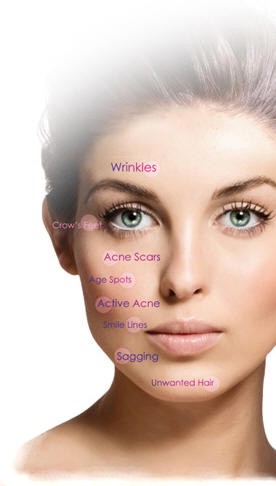 Still horrified by laser blasting of facial wrinkles followed by months of redness? This is so 90s!
New generation of aesthetic lasers is safer and more selective in treating just what the doctors says you need: wrinkles, age spots, broken capillaries, saggy skin, etc. The result? Faster healing, so you can get back in makeup and return to work with smoother skin in as little as 24-48 hours. Well… it depends. Here is a brief guide to different laser treatments so you can better understand your options.
Ablative Carbon Dioxide (CO2) Resurfacing
This is the skin-wounding original 1990s procedure.
Used for: hard-core lines and acne scars; can also tighten loose skin but is safe only for fair skin types only.
How it works: By blasting and burning away the skin's top layer, this aggressive single treatment bulldozes wrinkles and everything else in it path.
How it feels: you should not feel anything during the procedure since it is performed under general anesthesia. Recovery time: you are a burn victim for several days with open wounds, which ooze and bleed, followed by 7-10 days of rawness while your obliterated epidermis regenerates, and pinkness for 4-5 months.
Price: $4,000 to $8,000
Efficacy/Results: Excellent (if done right) but in a few months after the treatment.
Ablative  Erbium Laser Resurfacing
Used for: fine to deep wrinkles and acne scars; can also tighten loose skin, doctor must be cautious with darker skin types.
How it works: By evaporizing layers of epidermis (the skin's top layer).
How it feels: This proceudre is performed under a topical or local anesthesia and you may experience some burning discomfort. Recovery time: depending on the depth of resurfacing, you will feel from slight to mild oozing for 2-5 days, followed by 7-20 days of pinkness, which can be covered by make-up.
Price: $1,500 to $3,000
Efficacy/Results: Good to excellent depending on the depth of resurfacing.
Ablative Fractional Resurfacing
Types of lasers used: either CO2 or Erbium (Er:YAG).
Used for: Smoothing fine-to-deep lines and evening out brown spots in a single treatment. Can also help tighten lax skin and remove some small spider veins.
How it works: The laser beam strikes the skin in thousands of tiny spots, destroying tissue a millimeter deep in those microscopic spots only (think perforated paper). Surrounding skin remains intact, allowing for faster recovery than the original ablative devices but more intense results than the nonablative fractional laser. The hole-punching fires up the body's wound-healing response, which generates collagen and smooths wrinkles. It's ablative and therefore riskier for patients of color, but can be executed successfully at a doctor's office.
How it feels: Typicaly performed with local anesthesia similar to what you'd get in a dentist's office. After 15 minutes of post-treatment discomfort and an application of ice packs, pain is minimal. For 24 to 36 hours, skin oozes, bleeds and peels, followed by five days of crustiness. Once crust peels, new, pink skin emerges and makeup can be worn; complete healing within two weeks.
Price: $1,500 to $5,000
Efficacy/Results: Average to good.
Nonablative Fractional Resurfacing
Non-ablative simply means that your skin will not actually be resurfaced, i.e. top layer of the skin, aka epidermis, will remain intact.
Used for: Smoothing fine-to-moderate lines, evening out brown/age spots, and improving overall texture and glow.
Downtime: typically none, but the skin may be red for a couple of days.
How it works: The laser penetrates deep into the skin, heats and provides controlled thermal injury to the connective tissue, which stimulates collagen production. No oozing no raw skin. It's typically performed over a course of three to five 25-minute treatments, one to two months apart. This procedure is safe for darker skin types.
How it feels: like the heat is building up in your skin, but no pins and needles. May feel like a bad sunburn for a few minutes after the procedure is over; afterward, skin is pink and sandpapery for three to five days but can be camouflaged with concealer.
Price: $600 to $1200 per treatment depending on the actual laser modality and doctor.
Efficacy/Results: Average to good depending on a number of treatments.
Intense Pulsed Light (IPL)
Used for: Eliminating brown spots and other sun-induced discoloration and spot-treating broken capillaries. No effect on wrinkles.
How it works: IPL devices are not lasers, unlike lasers they emit a broad spectrum of light. Short pulses of bright white light pinpoint brown pigment cells and redness, which are damaged when they absorb the light and the heat it creates. Safe for most skin types, but a doctor may dial down intensity for darker skin tones to avoid slim risk of de-pigmentation.
How it feels: Like a sunburn. Patients experience slight swelling and pinkness the day of the procedure, but there's no downtime, which is why it's often categorized as a "lunchtime" treatment.
Price: $400 to $600 per treatment.
Efficacy/Results: Average and multiple treatments are required.