Dark skin is always a challenge for skin practitioners, and yet a wide variety of complicated skin conditions such as pigmentation disorders including post-inflammatory hyperpigmentation and melasma, keloid and hypertrophic scars, as well as pseudo folliculitis barbae (PFB), occur more frequently in people-of-color than Caucasian skin types.
Maritza Perez, MD in New York is among a small number of well-known physicians who specialize in treatments for patients of color. With over 15 years of experience, she is also recognized as one of the top authorities on how lasers and other cosmetic treatments can be best performed on skin of color patients. Like most other aesthetic physicians Dr. Perez prefers using Nd:YAG 1064 nm lasers on darker skin. YAG is the most widely recognized modality for safe and efficacious treatment of Fitzpatrick IV-VI in any laser clinic or medspa.
Comments Off
Filed under: Laser Clinics, MedSpa
Imagine the astonishment as Ponce de Leon, the Spanish explorer credited with discovering the legendary Fountain of Youth in 1513, teleports to present time. He would the manifestation of disappearing wrinkles, shaving bumps, spider veins, tattoos, scars, acne, hair removal and the effects of similar aesthetic rejuvenations, not with an elixir but with light.
Nearly 500 years later, people still clamor to be ever-young, ever-beautiful and ever-healthy, and aesthetic and surgical lasers help enhance their appearance, self-esteem, personal comfort and quality of life. And thus, they are willing to pay for the benefits of LASER treatment.
We have over 25,000 medical spas on the U.S., and more physicians are adding aesthetic services to their practice every month. Many surveys indicate that patients prefer a medical rather than a spa environment to receive laser procedures, and therefore doctors of many specialties will offer various  non-invasive light-based treatments to their own patients in years to come. Lasers are main stream of aesthetic medicine.
Author: Richard Miller
30 Nov
Primary care providers chose their profession out of a desire to help patients live better and longer lives according to the Hippocratic Oath. But the winds of change are blowing stronger across the landscape of medical practices throughout America. Now, more than ever, practitioners wishing to fulfill their calling are increasingly challenged on all sides by the pressures of time, patient demands, and complexity in the health insurance industry, government involvement and economics.
Many primary care providers (PCPs) find themselves on a treadmill, trying to maintain the highest standards of care while also endeavoring to achieve the rewards they and their families deserve to compensate the years and high cost of medical training and the long hours devoted to this most noble profession. There are several strategies to bring the economics of medical practice back into balance: work more hours and see more patients (not usually possible); raise fees (not practical given insurance industry dynamics); cut costs further (many practices are already close to a point of diminishing returns); or offer new, cash-based medical services.
Author: Cathy Valenti
17 Nov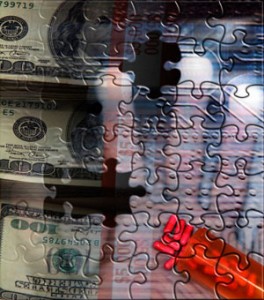 Plastic and cosmetic surgeons, dermatologists, OB/GYNs and even family doctors are expanding into the med spa market. Lured by the business buzz medical professionals view cash paid aesthetic medicine as a way to boost their profit, reduce the daily grind and countless complications of their practice.
Many find out about growth reports, discover bright cutting edge technology in industry shows, and follow competition in fear that they may be sliding behind. With pencil at hand they are prepared to sign rent agreements, loan paperwork and a lot of checks to be able to get caught up with a group of informed businessmen that know where serious action is. And the reality is that some people may be right. Skin clinics are the advancement of aesthetic medicine, and those that do not sign up for the revolution may watch from the sidelines as their fortune is decided.
Comments Off
Filed under: MedSpa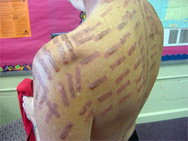 We stumbled upon an old (March 7, 2007) article in ABC News – Spa Left Woman With Skin 'Like Raw Meat' – a story about a 52-year-old stay-at-home mom who saw the ugly side of medical spas. She went to one in Panama City, Fla., for what she thought was a routine procedure – laser treatments to remove sunspots on her back and chest.
"They put a topical ointment on my skin called Leveline, which intensified the laser," Miles said. "After it was over, I was already burning. During the treatment, it was very excruciating pain, but I was lead to believe that this was normal."
The pain, which she said felt like someone pressing hot curling irons in to her back, was not normal. After leaving the spa, she said that her back was on fire and that she was vomiting from the severe pain. When she finally looked in a mirror, Miles was shocked at what she saw.
"It looked like raw meat. I had horrendous blisters all over it. It was in a zebra-stripe type pattern. It was scary," she said.
See the graphic pictures of what an IPL machine can do in the hands of an untrained medical spa technician.
Comments Off
Filed under: MedSpa, RS | IPL and Lasers
Author: Richard Miller
10 Aug
The aesthetic physician or the head of the group if several doctors work together.
The financial shock we are trying to cope with has made us sharper. The star of the practice is what can make a difference for a cash paying consumer comparing several aesthetic practices during the online research.
What can help you look more impressive in the eyes of today's web surfing cosmetic patient?
It's not about offering the same plastic surgery procedures every doctors offers these days – it's about daring to work differently and offering innovative presentations of new treatment options with good results and minimum downtime
It's not about general marketing with billboards and newspaper ads – it's about authenticity with style and mostly online
It's not about dreaming dreams about "buying an expensive laser system… and they will come" – it's about educating, engaging and pursuing prospects to come for a free consult
It's not about materialism – it's about wealth of self, inside and out
Comments?
Hypatia Aesthetic & Laser center in Woodinville, WA was selected for the 2008 Best of Woodinville Award in the Physicians and Surgeons category by the Washington D.C. based U.S. Local Business Association (USLBA).
The USLBA "Best of Local Business" Award Program recognizes outstanding local businesses throughout the country. Each year, the USLBA identifies companies that they believe have achieved exceptional marketing success in their local community and business category. These are local companies that enhance the positive image of small business through service to their customers and community.
Hypatia Offers A Full Range of Treatments and Services 
CoolTouch CoolLipo laser lipolysis treatments to melt fat and tighten skin on the face and body. 
Thermage radiofrequency skin tightening and lifting for eyes, face, neck, body. 
Portrait Plasma skin rejuvenation – removes sun damage and creates new, smooth skin on: face, neck, chest, hands.
Fraxel laser treatments - acne scar treatment, skin tone evening, skin rejuvenation for face and hands, for any skin color.   
Contour Threadlift. 
Isolaz Laser acne clearing: face, chest, back (clears any type of acne), any skin color. 
Isolaz Laser hair reduction for face and body, any skin color. 
Isolaz skin rejuvenation.
Botox injections.
Silikon 1000 permanent lip augmentation. 
ArteFill permanent injectable wrinkle filler.
ElevessTM new temporary filler from Artes.
Juvederm injectable wrinkle filler. 
Sculptra facial contouring "liquid face lift".
Radiesse facial filler, hand rejuvenation. 
Mesotherapy for the body.
Growth hormone replacement therapy.
Bioidentical hormone replacement therapy for women and men.
hCG weight loss program.
Facial peels
Medical microdermabrasion.
Permanent cosmetics.
Other Treatments and Services.
Why Hypatia Clinic?
Hypatia Aesthetics & Laser Treatment Clinic is a small aesthetic laser center located 25 miles northeast of Seattle. Based on a review of their website and other available info, here is what LaserOffers can offer:
1. Simple but smartly built website:
no fancy graphics,
clear and concise descriptions of all aesthetic procedures,
strong message about the aesthetic physician – Dr. Virginia Stevens,
interactive functionalities, including videos, RSS, blog and comments,
quality inbound and outbound links,
high overall  level of SEO.
2. Optimal choice of popular aesthetic treatments:
dermal fillers,
lasers lipolysis,
laser skin tightening and rejuvenation
non-invasive or minimally invasive aesthetic treatments
breast and lip augmentation,
hormone therapy, and
medical diet
Seems like a very good anti-aging package for any baby boomer in greater Seattle area.
Comments Off
Filed under: Laser Clinics, MedSpa