Fractional skin resurfacing technologies like Fraxel, Lumenis ActiveFX, DeepFX, Palomar Starlux 1540 and Starlux 2940, and are quickly becoming familiar to many cosmetic, dermatology, plastic surgery and medical spa practices.
The history of laser skin resurfacing goes back to 1995, when the first full face CO2 laser resurfacing for wrinkle removal was performed. The procedure was a revolution in facial laser surgery. A flock of lasers were developed primarily for plastic surgeons. The procedure was done under general anesthesia and created a burn wound, which took 7-10 months to heal. The hypo pigmentation that followed for about another 10-12 months was normal and fairly well accepted for a few years due to lack of other options.
The next advance in laser skin resurfacing was the development of Erbium (Er:YAG) lasers. They became available to plastic and dermatology surgeons around the year 2000. These were, and continue to be very effective for the resurfacing. Erbium lasers are a lot safer and cause a significantly reduced downtime for the patient. At about the same time fewer patients wanted to have a full face resurfaced as a nicely done areas around the eyes and mouth created a very comparable overall aesthetic result with even faster healing and shorter downtime. A mild laser peel will give most patients an excellent result with about one week of "take it easy" time.
Fractional laserswere introduced to the aesthetic market in 2002-2003 with a big bang and glitzy and very effective promotions by Reliant, which pioneered the fractional photothermolysis. The idea was to bring about a laser that would be non-ablative,  but as effective as the ablative lasers (the CO2 and Erbium) before it.
Fraxel laser by Reliant was the first non-ablative fractional laser for the cosmetic medical market and it gave birth to the first generation of non-ablative fractional lasers. While there were a lot of hype about these non-ablative fractional lasers, the clinical fact is that they had categorically fallen short of the goal of 'profound results with zero downtime.' As we have seen with these devices, patients had to tolerate painful treatment in multiple sessions while still enduring disruption of the epidermis and thus multiple episodes of downtime, before the final outcome, which also failed to meet expectations. Fraxel has been upgraded and improved by a number of other competing fractional laser skin resurfacing technologies such as the Lumenis DeepFX and ActiveFX, Palomar Starlux 1540, and Starlux 2940. The newest fractional skin resurfacing technologies employ the use of erbium lasers and may be non-ablative (Fraxel re:fine, Fraxel re:store, Palomar Starlux 1540) or ablative (the newest generation of fractional lasers). The laser beam is 'fractionated' into tiny micro-lasers, treating only a small portion of the skin (MTZ – microthermal zone, or sometimes called microscopic treatment zones) and leaving surrounding skin tissue undamaged. The goal is to speed up the healing.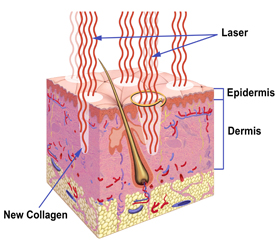 These MTZs cause enough injury to the dermis to trigger new collagen production and stimulate the replacement of collagen damaged by aging and sun exposure. This production of new collagen 'fills in' or 'plumps' the underlying dermal tissues and smoothes wrinkles. The surrounding, untreated skin speeds the healing process to a mere 3-4 days. Since most of the pigment cells remain intact, hypo pigmentation is effectively prevented. The Fraxel re:fine, Fraxel re:store and Palomar Starlux 1540 are non-ablative lasers that don't actually vaporize or remove the skin. Instead, the laser instantly heats MTZs, causes the thermal damage, which stimulates new collagen growth during the healing process. Results for wrinkle removal and skin tightening are less dramatic than with any ablative lasers, but some patients may appreciate the benefit of reduced recovery time and fewer side effects.
Fractional Ablative Laser Resurfacing
The newest generation of fractional lasers (Starlux 2940, Lumenis ActiveFX and DeepFx systems and Fraxel re:pair) use the ablative skin resurfacing, i.e. CO2 10600 nm or Erbium 2940 nm. They are designed to offer the best of both worlds: fractional treatments with less downtime and reduced complications and ablative laser skin resurfacing for better wrinkle removal and facial rejuvenation. These lasers actually remove tissue in the micro treatment zones, providing much better cosmetic result for patients with heavily wrinkled and sun damaged skin. These lasers provide "rapid remodeling from the inside out": the fractional treatment results in both rapid reepitheliazation of the epidermis as well as collagen remodeling to depths of 1.6 mm. The skin heals much faster than if the entire area were treated at once, because the treatment uses the body's natural healing process to create new, healthy tissue that replaces skin imperfections – such as wrinkles, melasma, dyschromia, actinic ketatosis, pigmented lesions, acne scars and surgical scars.
ADVERTISEMENT
Actifirm Post Laser Gel combines skin-soothers like Aloe and Chamomile with a Mushroom-derived, exfoliating enzyme, Mucor Miehi Extract, to inhibit pain and inflammation, while helping renew your skin to its freshest form. You'll be looking your best in no time.
---
Fractional treatment works on and off the face, including delicate areas like the neck, chest and hands. This is a huge advantage over previous generations of ablative lasers, which required a truly skilled hand to work on these areas.
There is some increase in recovery time:  clinical downtime of 2-3 days (reepitheliazation of epidermis) and 5-7 days of social downtime (time for patients to resume regular activities). Thus the overall downtime is comparable to the downtime after a traditional non-fractional erbium ablative laser treatment.
LaserOffers.com comment

Leaving the laser skin resurfacing by pulsed non-fractionated CO2 lasers in the past (where it belongs now), most experts agree that the newest generation of fractional lasers, which uses ablative technologies (Erbium or CO2), have approached the clinical efficacy achieved by traditional Erbium resurfacing. The pain for the patient, downtime and potential side effects are comparable. It is up to the physician to define what patient will benefit more from the subtle difference between these lasers. In time when value and ROI are particularly important, the cost of acquisition of either type of the ablative laser will be the best helpers to the physician.