Dangers of Spa Hopping
Author: newsroom
25 Sep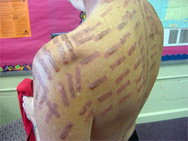 We stumbled upon an old (March 7, 2007) article in ABC News – Spa Left Woman With Skin 'Like Raw Meat' – a story about a 52-year-old stay-at-home mom who saw the ugly side of medical spas. She went to one in Panama City, Fla., for what she thought was a routine procedure – laser treatments to remove sunspots on her back and chest.
"They put a topical ointment on my skin called Leveline, which intensified the laser," Miles said. "After it was over, I was already burning. During the treatment, it was very excruciating pain, but I was lead to believe that this was normal."
The pain, which she said felt like someone pressing hot curling irons in to her back, was not normal. After leaving the spa, she said that her back was on fire and that she was vomiting from the severe pain. When she finally looked in a mirror, Miles was shocked at what she saw.
"It looked like raw meat. I had horrendous blisters all over it. It was in a zebra-stripe type pattern. It was scary," she said.
See the graphic pictures of what an IPL machine can do in the hands of an untrained medical spa technician.