Non-surgical procedures and drugs could leave you disappointed
Author: newsroom
11 Mar
There is an excellent article/slide show on MSN today. You will enjoy reading and watching it. It deals with: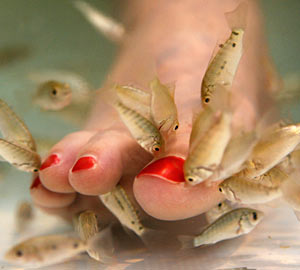 Botox breast lift
"Doctor fish" manicures and pedicures
Waxing
Eyelash-thickening drops
UV-activated teeth whitening
Permanent makeup
Chemical peels
Brava breast enhancement, and
Thermage
We find the "Doctor fish" manicure and pedicures especially entertaining. Well, we, however, should stay focused on the subject of our blog and comment on three treatments, that are near and dear to us.
LaserOffers.com comment

Waxing. Add up what you have and will spend on waxing and think about laser hair removal again.

Chemical peels. They work great in skilled hands. In most cases you will have oddly colored, patchy skin, redness, scaling and blisters; and the possibility of triggering previously dormant cold sores. Low concentration products you can buy OTC or online do not work and can cause unwanted side effects. High concentration in unskilled hand may cause scarring. Laser resurfacing is a very comparable, but much safer alternative.

Thermage. Remember the buzz initiated in 2002 by Oprah about this "non-surgical facelift" by radio waves? Expensive glossy marketing has put this machine in thousands of aesthetic practices. Few doctors are still very happy with their investment. The number of unhappy patients with burnt the skin, scars, dents and grooves on the face, is much greater. Neither complication is very common, but both happen often enough that doctors say potential patients need to be more aware of the risks.
ADVERTISEMENT
Actifirm Post Laser Gel combines skin-soothers like Aloe and Chamomile with a Mushroom-derived, exfoliating enzyme, Mucor Miehi Extract, to inhibit pain and inflammation, while helping renew your skin to its freshest form. You'll be looking your best in no time.
---