Lasers in Aesthetic Medicine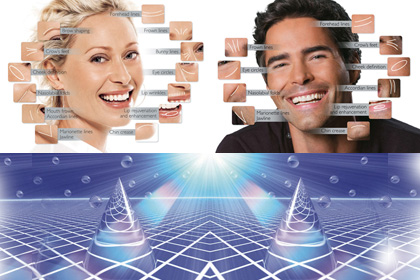 Lasers and optical technologies play a significant role in aesthetic and reconstructive surgery. The unique ability of optical technologies to target specific structures and layers in tissues to cause chemical, mechanical, or thermal changes makes them a powerful tool in cutaneous rejuvenation, hair removal, fat removal, and treatment of vascular lesions such as port-wine stains, among many other procedures.
With the development of epidermal cooling, lasers and optical technologies have become more versatile and safe. The constant improvement of existing applications and the emergence of novel applications such as photodynamic therapy (PDT), nanoparticles, spectroscopy, and non-invasive imaging continue to revolutionize aesthetic medicine by offering a minimally invasive alternative to traditional plastic surgery. Lasers and optical technologies are headed toward safer, easier, more quantifiable, and more individualized therapy.
Lasers and light-based treatments are extremely useful and now standardized techniques in the management of different stages of photoaging. To obtain the most successful results, protocols involving single or combination systems can be used, depending on skin photodamage. In the last years, the trend is to choose noninvasive or minimally invasive treatments, with the aim of reducing the risk of side effects, complications, and downtime.
Selective photothermolysis obtained with lasers and with intense pulse light is an extremely valid procedure, in particular in types I and II, according to the Glogau classification. Photodynamic therapy is another effective tool in photoaging treatment, especially in the presence of precancerous conditions. In mild and severe photoaging, ablative laser resurfacing is a particularly successful technique, although requiring a very skilled hand.
The new systems, such as fractional photothermolysis, seem to be the very next future to face up to resurfacing procedure with high efficacy and less risks. Obviously, lasers and light-based treatments alone might not be sufficient to control all aging symptoms. For this reason, many other treatments (botulinum toxin, dermal filling agents, chemical peels, systemic and topic antioxidants) can be used in combination to improve the final clinical outcome.
Benefits of Laser/IPL Surgery
Lasers offer patients and dermasurgeons the following general benefits:
Improved therapeutic results
Reduced risk of infection
"Bloodless" surgery with most lasers
An alternative to traditional scalpel surgery, in some cases
Less scarring, in most cases
Precisely controlled surgery, which limits injury to normal skin
Safe and effective outpatient, same-day surgery for many skin conditions
Types of Lasers/IPLs
Different types of lasers and IPL are used to treat a variety of skin conditions, birthmarks and growths and cosmetic complaints. Presently, no single laser or IPL is capable of treating all skin conditions, but certain lasers can be tuned to a variety of colors of light or coupled to a robotized scanning device to expand their clinical effectiveness. An experienced physician may evaluate the individual condition and suggest the appropriate type of laser and/or IPL system to achieve the best results.
---
---